SRM 2023 Photos
Founders' Medal Award
Congratulations to Gailen D. Marshall, Jr, MD, PhD, University of Mississippi Medical Center, the SSCI's 2023 Founders' Medal Award recipient!
Mentor of the Year Award
Junior Faculty Category - Jesse Jacob, Emory University
Postgraduate Category - Christopher Jackson, University of Tennessee Health Science Center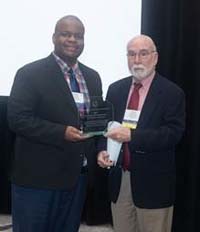 Tinsley Harrison Award
The 2023 Tinsley Harrison Award was presented to Sixto G. Giusti-Torres, MD, Tulane University, for his paper entitled "The Effect of Proton Pump Inhibitor Use on the Course of Kidney Function in Patients with Chronic Kidney Disease Stages G3A TO G4".
SSCI Research Scholar Award
Monica Chang-Panesso, MD, Washington University in St. Louis
"Tubular Senescence and Proliferative Capacity of the Aging Kidney"
---
SSCI Awards
SSCI Young Investigators Award
First
Naman Shetty, MBBS, University of Alabama Birmingham
"Incident Heart Failure Risk Reclassification with Race-Independent Estimated Glomerular Filtration Rate: An NHLBI Pooled Cohorts Analysis"
Second
Jacob Park, Ochsner Clinical School, The University of Queensland
"Immobilization-Associated Hypercalcemia in the Hospital Setting: A Cohort Study"
Third
Josean Flores Santiago, MD, Ochsner Medical Center, Southern Kidney Specialists
"Development of a Computational Modeling Tool for Automated Detection of Urinary Casts and Acanthocyte"
SSCI Young Investigator Award in General Internal Medicine
Nicole Dussault, MD, Duke University
"Internal Medicine Resident Barriers to Advanced Care Planning in the Primary Care Continuity Clinic"
Nathan Solomon & Irene Oransky-Solomon Medical Student Awards
First Place
Jayla Mondy, University of Mississippi Medical Center
"MicroRNA-21 Overexpression Attenuates Excess Androgen-mediated Brown Adipose Tissue Lipid Droplet Hypertrophy in Polycystic Ovarian Syndrome"
---
Second Place
Wilton Barlow, LSU Health Shreveport
"Antibiotic Resistance Mechanisms in Group B Streptococci"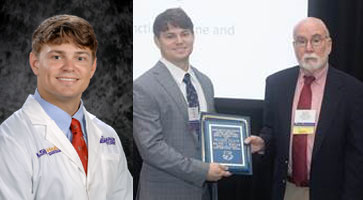 SSCI Poster Awards
First Place
Peter G. Lochmaier, University of South Alabama
"PDE4 Inhibition Induces and Acute and Transient Reduction in Serum Potassium in Mice"
---
Second Place
Fareed Sindi, Tulane University
"Angiotensin II-Mediated Suppression of Skeletal Muscle Autophagy Via Mtor and Foxo3a Pathways"
---
Third Place
Ashwini Pujari, University of Alabama at Birmingham
"Rejection in Patients with Simultaneous Pancreas-Kidney Transplants - An Immunologic Pas De Deu"
---
Fourth Place
Tara Korbal, Louisiana State University Health Sciences Center
"Measuring Muscle Tissue Trauma in Murine an In-Vivo Models"
SSCI Student Research Award
SSCI Trainee Research Award
SSCI Junior Faculty and Trainee Research Award