Mentor of the Year Awards
Mentoring is a fundamental determinant of success in the biomedical sciences and is a major mission of the SSCI. These awards recognize outstanding mentors who are members of our organization and who have demonstrated a longstanding commitment to mentoring students, trainees, and/or junior faculty. Moreover, through their positive impact on the mentee's careers, they have advanced medical education and research for the benefit of the community at large.
Mentor of the Year Awardees - 2023
Junior Faculty Category - Jesse Jacob, Emory University
Postgraduate Category - Christopher Jackson, University of Tennessee Health Science Center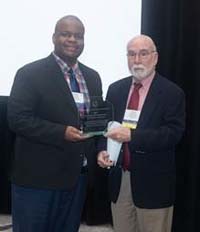 Awards Criteria
Mentor award nominations will be evaluated based on the positive educational and/or research experiences of the mentors' trainees, including the impact of mentorship on their subsequent professional and personal success. Key roles of a mentor include:
A wise and trusted advisor
Intellectual growth and development
Career and professional guidance
Positive role modeling
Award Categories
Student Mentor (includes medical and graduate students)
Postgraduate Mentor (includes residents, fellows and other postdoctoral trainees)
Junior Faculty Mentor
Eligibility Criteria
Nominees must be SSCI members in good standing.
Nominees may include physicians, scientists, and educators in the various clinical disciplines of the biomedical sciences.
Nominees should have a sustained outstanding record of mentoring over time.
Nominators must be a previous or current mentee(s) of the mentor or be a colleague of the nominee with personal knowledge of the nominee's mentoring qualities and excellence.
There must be a primary and secondary nominator providing written nominations and documentations.
Ineligibility Criteria
Previous recipients of the SSCI's Mentor of the Year Award are not eligible.
Incomplete applications will not be considered.
Self nominations will not be accepted.
Nomination Packages
The nomination packages must include:
Primary and secondary nomination letters including nominators' relationship to nominee.
Nominee's curriculum vitae.
List of former and present mentees with current status/location.
Nominating letters should summarize the nominee's impact on mentoring with clear examples of the positive outcomes on students, trainees, and/or junior faculty. If the nominator(s) is a mentee, a narrative of how the mentor influenced his/her career(s) and those of others should be included.
Nominations will be reviewed and scored by the SSCI Mentoring Committee based on the award criteria outlined above.
Nominations should be submitted to Joan Kemp at jkemp5@tulane.edu no later than October 31.
Notification and Award Presentation
Award recipients will be notified by mid-December. The award presentation ceremony will be held during the SSCI/SRM meeting on February 2 - 4, 2023.